Updated 12 Mar 2021 We are at AMBER level
We are present limited to 15 people in total (that is leaders and young people)
Section leads will email and put a notice on Facebook with the return date for each section – DO NOT JUST TURN UP FOR SESIONS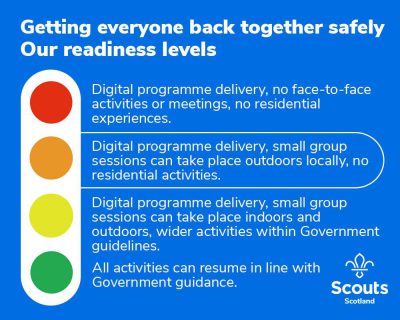 Safely resuming face-to-face Scouts outdoors – Please read, you need to know the systems we are putting in place!
Given the fact that the COVID-19 pandemic is very much with us, there'll be some restrictions on what we do and how we do it. This page will let you know the steps we've taken to make sure we keep everyone safe.
Firstly, anyone with COVID-19 symptoms, or who has been in contact with anyone who has COVID-19 symptoms (within the last two weeks), shouldn't come to any face-to-face activities, and should follow government guidelines on self-isolation and testing.
Secondly, young people who are shielding or are in another vulnerable group might not be able to return to face-to-face activities at this stage. If your child's shielding or in another vulnerable group, please contact me directly so we can chat through some options.
We're also aware some young people, including young people with additional needs, might need new or different reasonable adjustments putting in place to support a return to face-to-face Scouts – again, I'm happy to discuss this with you.
I'd also like to let you know some of the updates to our arrangements for making sure our indoor activities will be COVID-19 safe.
Arrival and departure arrangements
Confirmed times – Beavers 1800-1855 then Cubs 1915-2030 on a Thursday. Scouts 1930 – 2100 on a Wednesday.
For track and trace parents and guardians will be asked for a few details on arrival.
No parents allowed on Scouts land, please que with 2m spacing outside the main gates
No parking for parents or guardians on Scouts land unless a member has a disability – please let us know in advance.
No permission form (online below) no attendance – if you have done this before you do not need to do it again
Other measures in place
Activities will outside – appropriate waterproof jacket & warm clothes are required for all events (its Scotland after all).
Bring a filled water bottle.
No Parent to enter the Scouts ground unless the leader in charge gives permission.
If your son/daughter or any members of your house hold show signs of COVID you are to inform the section leader ASAP.
During the activity time you will be available for short notice pickups due to weather and other unplanned events.
Hand sanitisation, hygiene and personal protective equipment
Stringent hand sanitizing taking place before and after the meeting One toilet will be available with hand sanitiser and water and soap.
All equipment and toilets will be cleaned before the event and during the event after use.
Social distancing
We will adhere to the governments rules of 2m for those aged over 12, for those under 12 they do not need to social distance, however will promote this wherever possible.
One toilet will be available with hand sanitiser and water and soap.
If any young person is unable to follow the rules they will be removed from the activity and the leader in charge will talk to the parent and guardians.
Further more in depth details of the COVID return plan are described in the risk assessments below. Please read the relevant risk assessment, feedback is welcome.
Please don't hesitate to get in touch on the contact us page if you have any questions or concerns.
Don't forget the permission to attend form below.

Andre Govier
1st Elgin Group Scout Leader

Permission to attend online form – if you have done this before you do not need to redo the form. It is confidential and will enable the young person to return to Scouting activities – no form no return!