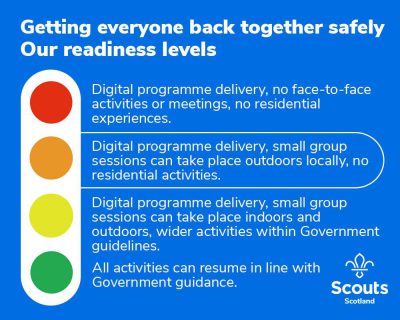 Readiness level: GREEN
This means: All activities can resume for members who live in Scotland. Residential activities and international travel may take place.
Group sizes and limitations:
All non-residential activities (including young people, Scout Network members): No limit on group size, although all activities must be able to safely manage the risk of transmission of COVID and, if this is not possible, they must not take place. Face coverings are required indoors (unless exempt) for those aged 12+.
Residential activities: Nights away activities may take place, more details in the planning COVID-safe Nights Away in 2021 guidance.
International travel: Visits abroad may resume but must follow the FCDO travel advice and still manage the transmission of COVID and ensure that the trips are safe and accessible. Consideration for the changing government requirements must be built into the trip plans prior to approval being given locally for the trips to go ahead.
Further information on what this means in the Scouts here.
For adult only activities please follow the government guidance for social gathering in your jurisdiction.
Anyone with COVID-19 symptoms, or who has been in contact with anyone who has COVID-19 symptoms (within the last two weeks), shouldn't come to any face-to-face activities, and should follow government guidelines on self-isolation and testing.

Arrival and departure arrangements
For track and trace parents and guardians will be asked for a few details on arrival.
Track and trace forms to be completed, hands washed and questions about COVID asked
No parents allowed on Scouts land unless cleared with leader, please que with 2m spacing outside the main gates
No parking for parents or guardians on Scouts land unless a member has a disability – please let us know in advance.
No permission form (online below) no attendance – if you have done this before you do not need to do it again
Other measures in place
Activities outside – appropriate waterproof jacket & warm clothes are required for all events (its Scotland after all).
All members over 12 are to wear a mask indoors unless exempt – for under 12s if possible please also wear.
We ask all young people and leaders to do a LFT before attendance.
If your son/daughter or any members of your house hold show signs of COVID you are to inform the section leader ASAP.
During the activity time you will be available for short notice pickups due to weather and other unplanned events.
Further more in depth details of the COVID return plan are described in the risk assessments below. Please read the relevant risk assessment, feedback is welcome. Please note the risk assessments are for yellow – one level up. We have decided to remain at this level for RA.
Please don't hesitate to get in touch on the contact us page if you have any questions or concerns.
Don't forget the permission to attend form below.

Andre Govier
1st Elgin Group Scout Leader

Permission to attend online form – if you have done this before you do not need to redo the form. It is confidential and will enable the young person to return to Scouting activities – no form no return!