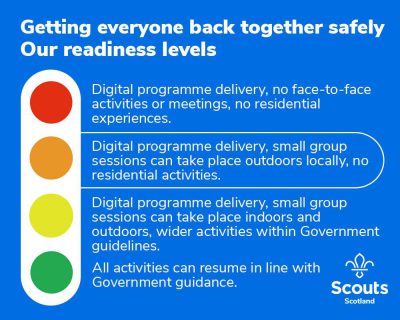 Readiness level: GREEN
This means: All activities can resume for members who live in Scotland. Residential activities and international travel may take place.
Group sizes and limitations:
All non-residential activities (including young people, Scout Network members): No limit on group size, although all activities must be able to safely manage the risk of transmission of COVID and, if this is not possible, they must not take place. 
Residential activities: Nights away activities may take place,
International travel: Visits abroad may resume but must follow the FCDO travel advice and still manage the transmission of COVID and ensure that the trips are safe and accessible. Consideration for the changing government requirements must be built into the trip plans prior to approval being given locally for the trips to go ahead.
Further information on what this means in the Scouts here.
For adult only activities please follow the government guidance for social gathering in your jurisdiction.
Measures in place
In line with the easing of Scottish Government restrictions, most COVID-19 mitigations will become guidance from Tuesday 19th April, rather than legal requirements. The virus has not gone away, so we will continue to implement measures which will help suppress it.This includes:
If we are In the hall, it will be ventilated as much as possible.
Staying outdoors as much as possible. This will be the plan post COVID as well.
Ensuring good hand hygiene and surface cleaning.
Whilst indoors we would still recommend that those 12 and over wear a mask, but this is not compulsory.
Advising that any member displaying COVID related symptoms, should not attend a meeting or event.
No parents allowed on Scout's land unless cleared with leader, please que outside the gates.
No parking for parents or guardians on Scout's land unless a member has a disability – please let us know in advance.
I would also like to say thank you very much for everyone's support and adherence to the rules over the last 2 years, it has enabled us to operate (in slightly different ways!) and to offer Scouting activities.A really big thankyou also needs to go out to all the leaders and volunteers who have made this possible, the adaption of events and meetings has taken up considerable personal time.
Further more in depth details of the COVID return plan are described in the risk assessments below. Please read the relevant risk assessment, feedback is welcome. Please note the risk assessments are for yellow – one level up. We have decided to remain at this level for RA.
Please don't hesitate to get in touch on the contact us page if you have any questions or concerns.
Don't forget the permission to attend form below.

Andre Govier
1st Elgin Group Scout Leader