Worldwide Scouting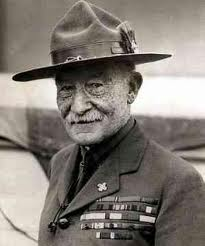 Lord Robert Baden-Powell of Gilwell (1857 -1941) was a decorated soldier, talented artist, actor and freethinker. Best known during his military career for his spirited defence of the small South African township of Mafeking during the Boer War, he was soon to be propelled to extraordinary fame as the Founder of Scouting.
He had been impressed during the seige at how boys had used their initiative under pressure to make themselves useful and capitalize on limited resources. Already thinking of developing a training programme for young people in Britain, he was urged to re-write his handbook for soldiers (Aids to Scouting) for this younger audience.
In 1907 he held an experimental camp on Brownsea Island, Poole, Dorset, to try out his ideas. He brought together 20 boys, some from public schools and some from working class homes, and put them into camp under his leadership.
The whole world now knows the results of that camp.
Some 28 million young people worldwide now take part in the adventure of Scouting and in 2007 the Movement celebrated it's centenary.
Every year Scouts across the world celebrate the birthday of Lord Baden-Powell which is on 22nd February.
Milestones of Scouting
Over the years since our foundation we have constantly had to adapt to meet the needs of society and our young people.
1907
Baden-Powell (B-P) runs an experimental camp for 20 boys, from different backgrounds, on Brownsea Island in Dorset, based on the ideas he had begun to formulate.
1908
B-P writes his ideas in a book titled Scouting for Boys (one of the top 10 best-selling books of the 20th century). Scouting took on a life of its own as groups of boys across the country began to organise themselves into Patrols, using B-P's book as the basis for camps and activities, and persuading adults to become their leaders. B-P introduced the motto "Be Prepared" (based on his initials) which is still the Scout motto today.
1912
The Boy Scout Association is incorporated by Royal Charter, granted by King George V.
1916
Wolf Cubs begins for younger brothers who want to get involved. Many years later it would be renamed Cub Scouts.
1918
Rover Scouting begins for young men from 17-25 years old.
1963
The first Little Brothers groups started up in Northern Ireland, they would later go on to become Beaver Scouts.
1966
A report is published recommending the biggest shake-up of Scouting since it began.
1967
Rover Scouts and Senior Scouts amalgamated into a single section called Venture Scouts.
1976
Girls are admitted into Venture Scouts.
1986
Beaver Scouts officially became part of The Scout Association.
1991
The decision is taken to allow girls to become members of all sections.
2002
Venture Scouts replaced by Explorer Scouts and the Scout Network. The Balanced Programme is introduced.
2007
The Scout Association celebrates the centenary of Scouting.
2009
Bear Grylls appointed Chief Scout.
2014
UK membership reaches 550,000